Proper job interview outfit for men
published: 14 November 2014 | 15:21:58
Today we'll take a look at some advices for the outfit which can help men to be appointed to the job of their dreams. A proper look during a job interview is an important part of the employing process. Next tips may be of interest to those men in quest of a job - recent graduates, professionals seeking for a better job or promotion.
The first 30 seconds when people meet each other for the first time are determining for the biggest part of their overall impression - so it's good to use them wisely.
- learn about the work setting - you may just walk in the building and note every little detail that can give you more information about the corporate culture and habits - separate offices or an open-space office, tables of red wood or a modern interior, conservative dress code or more relaxed to a certain degree. When you show up it's important to create an impression that you perfectly fit in the corporate climate
suit selection - it's good to start it a few weeks before applying for the job, because it may take some time to find your best fitting ensemble
- usually getting a 'ready' suit is one of the worst options in terms of price-quality-status ratio, because ready-to-wear manufacturers can't make their suits to fit perfectly to every customer
- made-to-measure, made-to-order or fully bespoke suit is definitely a better choice to make you look confident, stylish and elegant as it's made especially for your measurements
- it is highly recommended to choose a suit made of natural fabric such as wool, because of its unique properties - this will give you the comfort you need during the interview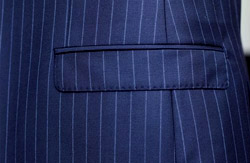 - the most appropriate colors for a job interview or other highly formal occasion are navy blue and dark gray. It is not recommended to choose black color

- bet on a classic men's suit - a two-piece suit with two or three button, regular flap pockets single breasted jacket with a notched lapel, and a single or double back vent

You must know that suit jacket sleeves should show one inch of shirt cuffs and the neck collar should lay flat showing three to four inches of a collar of the men's shirt, forming no bunches. 100% cotton white shirt is the best addition.

For a neck tie the best colors are burgundy, navy blue and green. Patterns should be as simple as possible and natural silk is the best material.

Following those simple rules we hope that you will successfully find the best job!



Photos: © Richmart

If you are a menswear fashion designer, please take part in the Men's Style project to create the most stylish and practical men's suit.